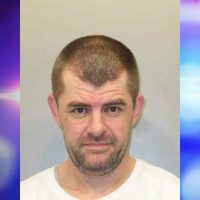 A West Burlington man has been charged with drug trafficking following an early morning traffic stop.
Arrest logs show 34-year-old Joshua James was arrested around 2:30 Wednesday morning, he was stopped by West Burlington police on Broadway and Division streets. James faces drug trafficking charges for possession of more than 5 grams of methamphetamine as well as multiple misdemeanor violations. He was also arrested on a Lee County warrant for failure to appear on a driving under suspension charge.
During a search of the vehicle police found a baggie containing 7.8 grams of meth, drug paraphernalia, 60 mg of morphine sulphate, and a notebook detailing suspected drug transactions.
James was taken to the Des Moines County jail where he's being held on a $25K bond pending an appearance in court.