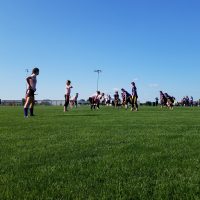 An annual fundraiser which seeks to raise funds and awareness to battle Alzeheimer's disease hopes to fill Bracewell Stadium with supporters on Saturday.
Elizabeth Garr, who sits on the Blondes vs. Brunettes board and will play in her second game on Saturday, says that the annual competition is put on for a good cause.
"All of our proceeds go to the Alzheimer's Association," Garr says concessions and silent auction items are all donated, so 100% of the events proceeds are able to go to the charity, which uses the funds to research Alzheimer's and dementia.
The group's goal was to raise $5K for the Alzheimer's Association…
"We are actually almost at that goal already… just with the fundraising we've done all year long," Garr says the groups monthly fundraisers have put them ahead of the game. "We are going to exceed our goal for the year."
In addition to the flag football game there will be a bounce house for kids, silent auction, games, face painting, 50/50 raffle, and concessions. Garr says many local businesses will also be on hand with giveaways. As for her prediction for the winning team…
"Well I'm a brunette," Garr said. This will be the 6th annual Blondes vs. Brunettes game to benefit the Alzheimer's Association, it will kick off at 6 PM Saturday at Bracewell Stadium.