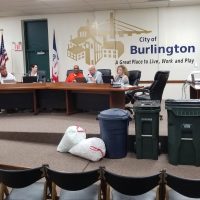 The Burlington City Council appears to have a direction for their revamp of the city's trash program.
At Monday's work session council-members Jon Billups, Lynda Murray, and Mayor Shane McCampbell agreed on a plan which would not increase the current trash price for the 35-gallon can, the smallest of the three options Burlington residents would have. McCampbell says he doesn't want to implement the program "on anyone's back."
"It's only .75 cents here, it's only $1.25 here…but for a lot of people all of those things add up," McCampbell said. "It's starting to hurt people, we need to be super-mindful of that. We have a lot of elderly people that live in this community that are on fixed incomes."
Prices for 65 and 95 gallon cans would be 17.50 and 20.75 per month, respectively. The price of trash tags would also double to $4.00 per tag, in an effort to make the bigger cans seem like a better deal to residents.
The price for Burlington's current trash program goes up to $14.25 per month in July. Under this potential trash program the cost would be unchanged if a resident chooses the smallest can option. The council is however banking on a majority making the switch to a 65-gallon can in order to pay for the cost of implementing the program.
Mayor Pro Tem Annie Wilson and Councilman Matt Rinker favored a plan which would have increased the cost for the 35-gallon can by .75 per month and had smaller increases for the two larger cans.
"I think if we continue to increase the price of those two cans we're going to see more people grab onto the 35-gallon cans and continue to do what they're doing today," Rinker said. Shane McCampbell interjected, "not if we get the information out there that we're not picking up any more snow-cones," to which Rinker replied "snow-cone or not I think it's just going to continue to lead to issues."
A snow-cone is referring to trash bags sticking out of the top of the can. As part of the new program the can's hinged lid would need to be fully closed, and if trash protruded from the top it would not be picked up. Solid Waste Director Don Fitting said that is a standard across most automated and semi-automated trash programs.
The council also rejected a $1.5M grant to fix the Cascade Bridge. City staff recommended the council not accept the money, as the bridge repairs would have to be done sooner than the city is currently planning. The bridge is on the Capital Improvement Plan for 2024.