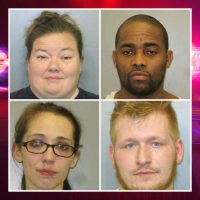 KBUR pulls information from daily police arrest logs based on newsworthiness, everyone arrested is presumed innocent until proven guilty in a court of law.
---
The Des Moines County Sheriff took 20 year old Christian Adams into custody for failure to appear. A warrant for Adams had been issued after he failed to appear for a May 21st hearing. He has posted the ten thousand dollar bond and was released on a promise to appear in court on Friday, June 15th.
---
24 year old Emily Carman was taken into custody by the Burlington Police Department after receiving a call about a woman that was acting strangely at the Hallmark store. Police say when they responded to the call they found that Carman had a warrant to serve a five day sentence. While placing her under arrest officers located two small baggies that contained heroin. She is currently being held at the Des Moines County jail on no bond.
---
Rebecca Houghton was arrested for Wanton Neglect Of A Health Facility Resident following an investigation into an incident at Sunny Brook Assisted Living Center on March 22nd of this year. According to the police report, an investigation into the alleged abuse of a patient with dementia resulted in an arrest warrant being issued. Houghton is accused of attempting to force the patient to take medication with physical force, resulting in injury to the back and neck of patient. West Burlington Police took her into custody yesterday evening at 8:34. She was taken to the Des Moines County Jail on $2000 bond. Court document show Houghton is currently free after posting bond.
---
A Fifth Degree Theft charge in April, another in May and a third yesterday (Monday) has led to a combined charge of Third Degree Theft against 37 year old Charles Smith. According to police records, police were summoned to the Circle K on main street after Adams returned to the store, after allegedly stealing a bottle of Vodka earlier in the day. Police say that Adams admitted to the theft of the vodka under questioning. He was held in the Des Moines County jail on $2000 bond.