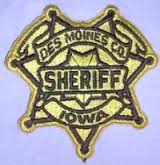 The Des Moines County Sheriff's office got the green light to put together a plan to expand their school resource officer program yesterday.
Currently, both Danville and Mediapolis schools have a deputy on hand two days a week. Both districts have expressed interest in having a full-time officer in the coming years. Sheriff Mike Johnstone said the program has been well received since it was created.
"The school resource officer program has been a huge success… Corey (Whitaker) has worked with those every day…and not just in adversarial conditions," Johnstone told the county supervisors. "He has relationships with them… we gain information from the kids every day on stuff that's going on… we solve a lot of crime."
Chief Deputy Jeff White talked to the county supervisors at Tuesday's meeting. He says in order to accommodate the requests another deputy will have to be hired. He plans to charge each district around $63.5K to have a full-time officer in the school for 9 months out of the year, which he says is 100% of the cost for that time period to the county.
Des Moines County will pick up the remaining $20K for the three months school isn't in session, White says it could be an opportunity to have an officer assigned to patrol Des Moines County recreation areas during their busy times.
"This extra person would give me somebody to maybe assign out there at Big Hollow…for at least three or four days a week to cover some of their security issues during those summer months," White said it could be a "nice marriage" to have the new deputy work as an SRO during the school year, and at Big Hollow during the summer.
The supervisors were all in support of expanding the program. White hopes to have another officer hired and have full-time SROs in the schools next year. He's putting together final numbers for approval by the board.