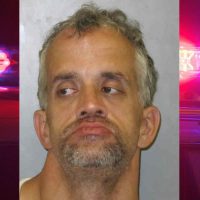 An early morning crime spree landed a Burlington man in jail on Tuesday.
Court records indicate that 43-year-old Robert Benacka was arrested shortly after 5 AM. Authorities report that a burglary in progress was reported at 2101 Burlington Avenue around an hour earlier. The homeowners said an individual who was later identified as Benacka had broken into their home and ran out the back door as police arrived. They were able to identify the man as the same person who came to the house asking for money on Sunday.
As police were investigating the burglary a robbery was reported at the Circle K gas station on Roosevelt Avenue. The Circle K employee's description of the robber also matched Benacka. She said he demanded $60 from the register and said he "had something in his pocket." Surveillance footage showed Benacka leaving in a taxi. The cab driver reported dropping Benacka off at a nearby residence on Market Street.
Authorities say they found Benacka during a search of that home, he told police that he went to the Burlington Avenue home and rummaged through dresser drawers in a search for contact lens solution, he then admitted to demanding money from the clerk at the Circle K while pretending to have a weapon. He said he paid for his cab ride home with the stolen money.
Benacka was taken to the Des Moines County jail where he is being held without bond until he is seen by a judge. Court records show he was recently released from custody after pleading guilty to a forgery charge in which he apparently racked up more than $12K in charges on another man's credit and debit cards. He is due to be sentenced next month in that case.