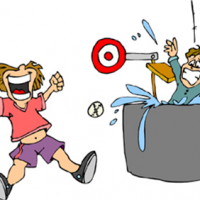 This Friday three of Burlington's elected representatives will be sitting on a different seat than they are used to — in a dunk tank with citizens hurling balls at them.
Jon Billups doesn't seem especially worried that anyone will be able to knock him off his perch.
"I know the millennials will show up… this isn't a video game kids. You actually gotta throw a ball," Billups didn't stop there either. "Guys my age… those 12 ounce curls… maybe you can throw a ball 20 feet…. I'll be down there talking smack to anybody that wants to dunk this particular councilman."
Billups, along with fellow council members Matt Rinker and Annie Wilson will be taking turns in the dunk tank. Rinker says he's not sure that anyone will be able to dunk Billups on a sunny Friday afternoon.
"Nobody's gonna be able to hit Billups… the glare off the top of his head with the sun……you're not gonna be able to see it," Rinker laughed. "It's not that easy…those dunk tanks…we'll see what happens." Mayor Pro Tem Annie Wilson said that people… may… have some luck dunking Rinker or Billups, but not her.
"I don't think anybody can throw a ball that far," Wilson said there will be a lot of older folks down there, but then relented. "I bet they can throw it and dunk Jon or Matt… they're new, they don't know what's going on."
The trash talk is all for fun, and the money raised will benefit charities that each have chosen, including the Des Moines County Humane Society, Capital Theater Foundation, Shop with a Cop program, and Burlington Parks Endowment Fund.
The "Dunk a Council Member" event will take place at Friday Fest.  It kicks off at 5 PM on Friday in the Memorial Auditorium parking lot. There will also be a band, and plenty of food and drinks available.