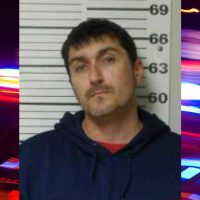 Authorities in Henry County are asking for the public's help in locating a wanted man.
Henry County Sheriff Rich McNamee says 39-year-old Ty Vaugn is wanted on charges of escape from custody, domestic assault, and assault on a law enforcement officer. A Facebook post says he failed to return from work release at the Henry County jail.
Vaugn is 5'8, 170 pounds, and has brown hair and multiple tattoos. He is considered armed and dangerous. Officials say not to try to apprehend him if seen, but to contact law enforcement.