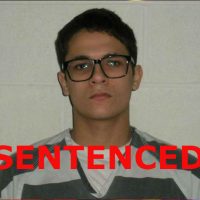 ---
Earlier today (Wednesday) Antonio Sanchez pleaded guilty to two charges, Second Degree Murder, and Home Invasion.
Sanchez was facing life in prison on a murder charge for the death of Maddie Finch, whom authorities said he shot in the head during a fight during a New Years Eve Party at the Finch Home. He had rejected a previous plea deal. Jury selection in his trial got underway Monday, on Tuesday morning it was announced that Sanchez had agreed to a plea deal.
Sanchez was sentenced to 20 years in prison on both counts, the judge ordered that they run concurrently, which would mean that Sanchez would serve a maximum of 40 years. The sentence could mean that Sanchez will serve as little as 17 years on the two charges.
At his sentencing, the Finch family expressed their anger at hurt and dissatisfaction with the plea arrangement. Sanchez told those in the courtroom that he was sorry and accepted that her death was his responsibility. The Judge reportedly became emotional during the sentencing as well, telling Sanchez he would have had no problem giving him the maximum sentence if he had been found guilty at trial.
Sanchez spent 253 days in the Hancock County jail, those days are applied as time served to his sentence.