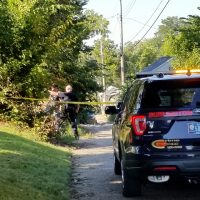 Burlington police are investigating a shooting on Burlington's South Hill.
Preliminary scanner traffic indicated one man had been shot in the chest behind a house in the 200 block of South 9th street shortly before 4PM on Thursday.
Burlington police and Des Moines County Sheriff's deputies were investigating a taped-off crime scene in the alley. An ambulance appeared to be taking a man to the hospital shortly after first responders arrived. Neighbors have reported hearing 10-15 shots.
Burlington police have not yet released any further information.