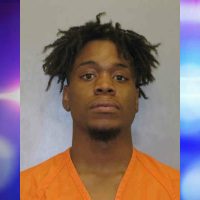 ---
One man has been arrested on theft charges at the South Hill residence where a man was shot Thursday afternoon.
22-year-old Tyreon Woodard was arrested at 241 South 9th Street around 8 PM Thursday. Arrest logs indicate he was taken into custody and is being held without bond at the Des Moines County jail. It's unclear if the arrest is related to Thursday afternoon's shooting, or the subsequent search of the home.
Woodard is charged with one count of felony 2nd-degree theft, a probation violation on a weapons charge, and a misdemeanor 5th-degree theft charge.
Authorities were called to the residence at 3:47 PM Thursday afternoon, when a 35-year-old man was found with a gunshot wound to the chest. Police interviewed multiple witnesses on the scene and searched the residence, finding narcotics and firearms.
There has not yet been an update on the condition or identity of the gunshot victim. Neighbors reported hearing 10-15 shots before seeing a vehicle speed away from the scene.
Authorities are asking anyone with information on the shooting to contact the Burlington Police Department or Crime Stoppers.