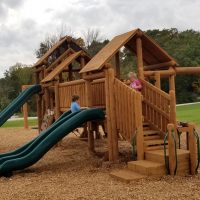 ---
Big Hollow Recreation area has unveiled their latest in a series of improvements to their campground this year — a brand new playground.
Des Moines County Conservation made the announcement that the new playground, installed by Bears Playgrounds, was officially open on Monday. The playground was made possible by grants and donations from area organizations, businesses, and park visitors.
Big Hollow has seen several other improvements this year as well, including a new shower-house, water and sewer infrastructure, lake access roads, a registration station and landscaping. Conservation Director Chris Lee says they're already looking into possible improvements for next year.
"Cabins, bike trails…like full on concrete bike trails," Lee plans to talk to the Burlington Council about the possibility of trails that could connect from inside the city to county trails.
Lee told the Des Moines County Supervisors on Tuesday morning that the Big Hollow campground continues to see an increase in the use this year — possibly due to the Lake Geode State Park's Campground being temporarily closed.