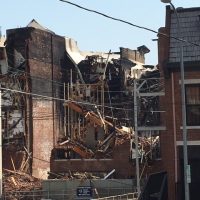 The cleanup of debris from the crumbling Tama Building is expected to begin this week.
Building owner Doug Wells addressed the city council at last night's work session, he plans to have workers begin clearing some debris from around the building on Wednesday, and within two weeks hopes to have a contractor begin emergency shoring, or structural support work to begin the rebuilding process.
Wells says he has no information on what caused the August blaze that destroyed his multi-million dollar project.
"I don't have any information regarding the cause or origin of the fire," Wells said. "Nothing has been forwarded on to us…we don't know."
Wells did say he plans to rebuild the structure according to its previous plans. Reconstruction will be done in three phases and he hopes to have it completed by April of 2020.