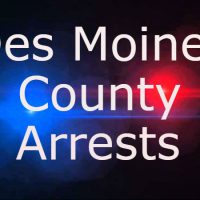 ---
36-year-old Tracy Bowers was arrested by the Burlington Police Department yesterday (Tuesday) at 8:32 in the morning on a warrant that was issued on October 1st in Des Moines County District Court charging him with 3rd-degree harassment. Bowers was taken to the Des Moines County Jail where the warrant was served and he was held on no bond.
---
The Burlington Police Department took 20-year-old Dustan Fenton Jr. into custody yesterday (Tuesday) at 6:17 in the evening for a violation of his probation. Court records indicate that he was on a 5-year probation for charges of 2nd and 3rd-degree burglary from 2017. He was held at the Des Moines County jail on a $10,000 bond.
---
The Burlington Police Department arrested 27-year-old Mathew Pacheco-McKinney on an out of county warrant for larceny. He was taken into custody at 11:15 last (Tuesday) night and held with no bond pending extradition.