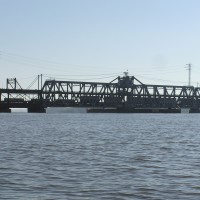 ---
Fort Madison Public Works Director Larry Driscoll has been very busy as the city is working to deal with rising water. Driscoll says that the rising water has already flooded the storm sewer system, Riverview Park has had the power shut off and is closed to the public and the Waste Water Treatment Plant that sits about six inches below the street level has been a focus for sandbags.  He says that city budget was cut that had included flood protection for the water treatment plant, so they are taking steps to secure it against the flood waters.
Flood waters are already affected low lying roads in Fort Madison, Driscoll says that 20th street, Avenue M to the train tracks, 11th street, and avenue I are beginning to flood. Other affected streets include 11th street to 13th street as well as avenue I  and south.
Despite the rising water, Driscoll says the town is moving forward with the fall clean up. That clean up is scheduled for Thursday through Saturday and is an annual event. People are encouraged to bring items they wish to dispose of and place them in the dumpsters which are located at 15th street and avenue I, between 7:30 AM and 4:30 PM on Thursday and Friday and then Saturday from 8:00 until 3:00.
Driscoll says that the city takes every opportunity to clean up and make the town more appealing to business and visitors, as well as being a source of pride for residents.