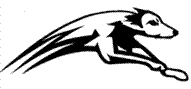 ---
Coach Zach Shay brought his offense to the Burlington School Board meeting Monday night.  Shay had each of the linemen and running back Taven Harris introduce themselves to the board and those in attendance.
On Friday night the Cedar Rapids Kennedy Cougars handed the Greyhounds and painful loss, 55-20.  It may not seem that BHS football would have a lot to celebrate this season, but that is certainly not the case.  A 56-year-old record for offense and rushing yards at Burlington was smashed this year.  Taven Harris set a new school record of 1897 yards in a single season.  The record held by Touchdown Tony Baker had stood since 1962.  Coach Shay praised the effort put forth by the team this season and said that he was proud of the fact that they never gave up.
The Greyhounds finished the season 2-7, despite having the second-best rushing record in the state.  The board and the audience in attendance gave the players a well-earned round of applause for a record-breaking season that the win-loss record failed to recognize. Harris says he hopes to play college football after graduation, the star running back also touts a 3.64-grade average.