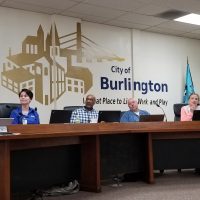 The Burlington City Council passed the second of three readings on a new "jake-brake" ordinance. Under the new law signs would be placed at city limits to notify people in large semi-trucks that an ordinance is in effect. Authorities believe the signs will act as a deterrent and not a lot of manpower will be needed for enforcement. The ordinance has to pass a final reading before it becomes law.
A resolution was also approved which raises city water fees by 10% for metered customers and 3% for unmetered customers. That's an annual increase which has been talked about for the last several months during council work sessions.
The council also approved applying for a RISE grant to cover a section of the new road that will be built in the Flint Ridge business park between the Rec-Plex and the new Indoor Sports Complex, and shot down a request for four new street lights in the Sunrise West Development. The development was going to pay for installation and wanted the city to cover the roughly $30 per month for the lights, but city staff didn't believe there was a need for more lighting in the area and didn't recommend approval. Only councilperson Linda Graham-Murray voted for the measure.
The council will meet next week for a work session.