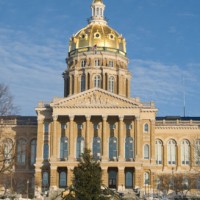 DES MOINES, Iowa (AP) — Two years after Republicans swept nearly all state and federal offices in Iowa, Democrats showed they still have some life in the state.
Republican Kim Reynolds was elected governor on Tuesday and the GOP maintained control of the Legislature, but Democrats beat two Republican congressional incumbents in winning three of the state's four U.S. House seats. It was a contrast to 2016, when President Donald Trump won the state by about nine percentage points and the GOP took three of four congressional seats.
Reynolds, who beat Democratic businessman Fred Hubbell, said she understood it was a close race. She pledged to meet with Hubbell to find common ground and work for the people who supported him.
"To all Iowans no matter who you might have supported or endorsed in this election, I want you to know I want to be your governor," she said. "We want Iowa to be the very best it can be. We want Iowans success to reach into every single corner of this state."
Hubbell said he hopes Reynolds will take a different approach in her first full-term. As lieutenant governor and since becoming governor, Reynolds has worked with Republican legislators to advance a conservative agenda that included a near-ban on abortions and reductions in public employee union rights.
"A lot of Iowans know we need change and it is my sincere hope that in her first full term Gov. Reynolds will listen to those voices loud and clear," Hubbell said.
The governor's race broke a fundraising record for a governor's race, with $18 million raised by Hubbell — including $6.4 million of his own money — and nearly $11 million raised by Reynolds.
Victories by Democrats Abby Finkenauer in northeast Iowa's 1st District and Cindy Axne in southwest Iowa's 3rd District mean Iowa will send its first female representatives to the U.S. House. The state elected its first woman senator in 2014 with the victory of Republican Joni Ernst.
Finkenauer said her campaign was not about what she and her supporters were fighting against. It was what they're fighting for.
"Tonight we rejected fear and division," she said. "Tonight, we proved we step up for our friends, our families and our neighbors. This campaign has always been about hope."
Axne took a similar approach, saying the election was never about party politics.
"When it comes to Washington, corporations and special interests have had their time," Axne said. "They've had their seat at the table but now it's time for Iowans to have a voice."
Democrat Dave Loebsack was re-elected to a seventh term representing southeast Iowa's 2nd District.
Rep. Steve King will be the state's sole Republican House member, winning his ninth term. He beat Democratic challenger J.D. Scholten, though by a much smaller margin than in his previous campaigns.
Democrat Rob Sand also won a closely watched election for state auditor over incumbent Mary Mosiman. Democrat Tom Miller was elected to a 10th term as attorney general, making him the nation's longest continuously serving state attorney general, and Democrat Michael Fitzgerald also was re-elected treasurer.
Republican Mike Naig also was elected state agriculture secretary, a key role in one of the nation's leading farm states.
However, one race that drew plenty of attention went to the Republicans as incumbent Secretary of State Paul Pate beat Democrat Deidre DeJear, who sought to be the first African-American elected to statewide office in Iowa.
Both chambers of the Legislature also will likely remain under GOP control, leaving Republicans in the driver seat for state policy.