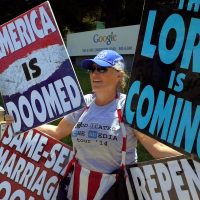 A Kansas church known for its use of controversial hate speech and protests of military funerals is planning to picket at a Western Illinois University football game next week.
Westboro Baptist Church has a protest scheduled for November 17th ahead of a WIU Leathernecks Football game against Indiana State. Little information is available as to why the group is planning to protest in Macomb.
Some have speculated that the protest could be in response to openly gay ISU football star Jake Bain. Westboro Baptist Church typically uses hate speech aimed against homosexuals.
Western Illinois and Indiana State will kick off at 1:00 on Saturday, November 17th. The game will be at Hansen Field in Macomb. The Westboro website lists the protest immediately preceding the game.