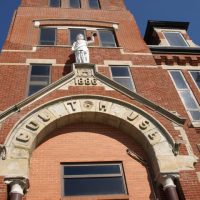 WASHINGTON, Iowa (AP) — A man accused of stabbing to death his roommate in southeast Iowa has been ruled incompetent for trial.
Washington County District Court records say 64-year-old Clarence Pedersen is charged with first-degree murder. The judge issued the ruling last week after Pedersen underwent psychiatric examination in October. The judge ordered Pedersen sent to the Iowa Medical and Classification Center in Coralville for treatment.
Washington Police Department officers sent July 11 to check a call about a suspicious death at an apartment complex found the body of 70-year-old Ed Jones , who'd been stabbed in the upper torso.
The Iowa Department of Public Safety says Pedersen acknowledged owning a knife that looked like the bloody one found at the crime scene. The department also says officers found a handwritten note among Pedersen's belongings. It said: "Kill Ed."