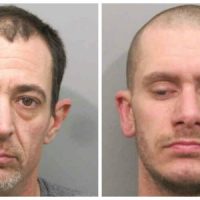 ---
The Burlington Police Department responded to a call at Matteson Marina leading to the arrest of two men on burglary charges.
The business located on 91st Avenue notified authorities that motion detectors had gone off in the building. When officers responded to the call they found two suspects in the building, 42-year-old Michael Laird and 30-year-old Marshall Markey who was found hiding under a vehicle.
According to the criminal complaint, both suspects were found with lock-picks on their person and welders had been placed near the door to taken later. Laird told police that he intended to steal gas because he did not have money to purchase it. He said he picked up Markey who told him he knew where they could steal gas. Laird then told police that when they arrived at the marina, they found a rear door unlocked and entered the building. According to the report, under questioning Laird told police he became excited once they were in the building and wanted to steal more, but police arrived on the scene. Laird denied knowing how the welders got moved to the door.
Markey told police that Laird had contacted him and told him that he needed help moving gas can and that he would get paid for helping. He said once they arrived at the Marina, they entered the building and he stood by and Laird moved the welders to the door.
Markey is currently facing a burglary charge from September, West Burlington Police charged Markey with Burglary for a theft at Nick's Cycle on Agency Road of a bicycle. Markey also has a third burglary charge from May of this year, in that incident, he is accused of breaking into a residence while the victim was asleep and stealing items from the home.
Markey is facing charges of possession of burglary tools and third-degree burglary, he is being held on a $5000 bond.
Laird is also facing third-degree burglary as well as possession of burglary tool charges. Laird has also been charged with possession with intent to deliver more than 5 grams of methamphetamine. Laird is being held on a $100,000 bond at the Des Moines County Jail.