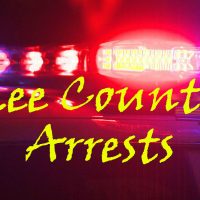 ---
The Lee County Sheriff's Office served two warrants on 29-year-old Brett Traman from Fort Madison. According to court records, Traman failed to appear in court in January of 2017 for two counts of driving on a suspended license resulting in a $500 cash only bond on one warrant and a $300 bond on the second warrant. He was released on bond pending a court appearance.
---
In July, 35-year-old Kristen Atterberg of Keokuk was charged with 3rd-degree burglary involving a motor vehicle. According to court records, she had been charged with violation of her pre-trial conditions in the past. On December 4th, the District 8 Probation Office filed a report with the South Lee County Court accusing Atterberg of violations once again, resulting in a warrant being issued for her arrest. She has a pre-trial conference scheduled for February 13th and a Jury Trial on the initial charge is scheduled for February 26th in South Lee County Court in Keokuk.
---
24-year-old Brittany Goldie from Keokuk has been charged once again with assault on a correctional officer. Goldie was charged in October of this year for striking a correctional officer after an altercation with medical personnel at the Lee County Correctional Facility. That incident was proceeded by her arrest in September for 1st-degree harassment and criminal trespass. Goldie remains housed at the Lee County Correctional Facility.
---
35-year-old Roy Stewart III was taken into custody by the Lee County Sheriff's Office on a warrant for voluntary absence from custody. According to the arrest log, Stewart is being held to serve a court-ordered sentence at the Lee County Jail.