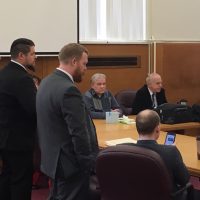 ---
58-year-old Bradley Wischmeier has been found "Not Guilty" of the charge of Homicide by Vehicle in the death of his wife, Lisa Wischmeier on April 17th of this year.
At 10:25 this morning, the Jury of eight women and four men notified the court they had reached a verdict in the case.  Wischmeier was facing two charges, Homicide by Vehicle and OWI.  Judge Mark Kruse read the verdict of not guilty on the homicide by vehicle charge and a verdict of guilty on the charge of Operating a Motor Vehicle Under the Influence.
Wischmeier reacted to the decision with tears and by signaling his family present in the courtroom. he was seen hugging his defense team as well.  He took several deep breaths and smiled prior to speaking with Judge Kruse about the OWI conviction.
The guilty verdict on the OWI is a second offense for Wischmeier, who had been previously convicted on the charge in June of 2011.  Judge Kruse read Wischmeier his rights and explained that he had a right to a trial where the state would need to prove he was the person previously convicted.  Wischmeier admitted that he was the person previously convicted in the case.
Defense Attorney James Beres asked for an immediate reduction in bond, which was at $20,000 cash.  Judge Kruse reduced the bond to $7500 cash or surety and ordered that if Bradley Wischmeier bonds out, he cannot drive or drink and is subject to a supervised release.  Sentencing is set for April 7th, prior to that time the judge has ordered a pre-sentencing investigation and a substance abuse evaluation for Wischmeier.
Bradley Wischmeier is facing up to two years in prison and a minimum of seven days on the second offense OWI charge,