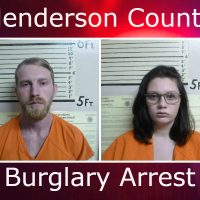 ---
The Henderson County Sheriff's Office is reporting the arrest of two suspects allegedly associated with a string of car thefts in the Lomax area.
At around 12:30 in the morning, today (Tuesday), the Dallas City Police Department conducted a traffic stop. During the stop, the officer noted a number of items in the car that had been reported stolen. A Henderson County Sheriff's Deputy confirmed the items were those that were reported stolen from the Village of Lomax over the past few days. The Sheriff's Department says residents in the Lomax area reported cars being broken into on Sunday and Monday night and items missing.
29-year-old Dustin Huss from Dallas City and 18-year-old Ashley White from Oquawka were taken into custody and taken to the Henderson County Jail on no bond. Both suspects are charged with burglary from a motor vehicle and theft over $300 and will be held pending a court appearance tomorrow (Wednesday).