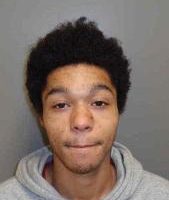 ---
A 20-year-old Fort Madison Man that eluded police since December is in custody.
Fort Madison Police Chief  Tim Sittig says that on December 20th, Fort Madison police responded to a call at a trailer park about a man causing a disturbance with a handgun.  When officers arrived the man, identified by witnesses as Ladarius Burton had left the area in a vehicle. A search of the area turned up a handgun that was later found to have been reported stolen from Des Moines County.  Officers secured the weapon and took it as evidence.
Sometime later on the 20th, police spotted a car that matched the vehicle that was suspected as the one that Burton had left in. When officers attempted a traffic stop, a male suspect fitting Burton's description ran from the vehicle into a field and eluded officers.  The driver of the vehicle confirmed to authorities that the passenger in the car was Burton.
Based on witnesses testimony and evidence collected the Fort Madison Police Department filed a criminal complaint in North Lee County Court on December 24th, resulting in the court issuing a warrant for Ladarius Burton on a number of charges.
Ladarius Burton was arrested by the Lee County Sheriff's Office on warrants for 2 counts of assault, going armed with intent, carrying weapons and two counts of stolen property. Burton was transported to the Lee County Correctional Facility on $5500 bond pending his initial court appearance.