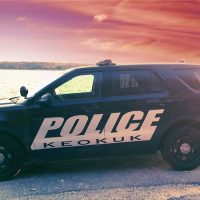 ---
The Keokuk Police Department has reported that a Keokuk woman has died as a result of a stabbing on main street Tuesday night.
Police responded to the 300 block of main street at 10; 27 last (Tuesday) night where4 they found Calove Sackman suffering from stab wounds. She was transported to the Unity Point Hospital in Keokuk where she succumbed to her injuries.
The Keokuk Police Department have arrested 24-year-old Adam Golden McCain and charged him with first-degree murder in the case.
The Keokuk Police Department was assisted by the State of Iowa, Division of Criminal Investigations,
Lee County Sheriff's Office, Lee County Attorney's Office, Lee County Ambulance Service, Lee County
Medical Investigator and, the Keokuk Fire Department.