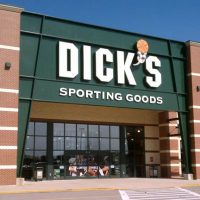 National sporting goods retailer Dick's plans to phase out guns and other hunting supplies in 125 of its stores.
A list of stores affected hasn't been released by the struggling retailer, but Fox Business has reported they're considering making that move in all of their stores in the future. Dick's CEO Ed Stack  says they'll be replacing the hunting section in those stores with products they believe will create growth in sales, which dropped nearly 3% in the fourth quarter of 2018.
Dick's sales have struggled since they raised the age to purchase a gun to 21 and pulled AR-15 sporting rifles from their store shelves in February of 2018. The AR-15 is the most popular rifle, and top selling firearm nationwide.
It's unclear if guns, ammo, and hunting supplies will remain on shelves in the Burlington location, although the majority of the chain's stores don't plan on making the move yet.