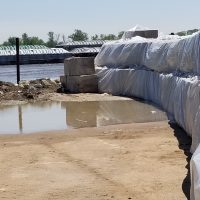 The city is stocking up on Hesco barriers in preparation for a potential record-flood.
Assistant City Manager Nick MacGregor asked the city council for approval to spend $51K on the barriers on Monday, but walked away with approval to spend almost double that, in order to avoid making an emergency order as floodwaters rise.
MacGregor says several Hesco barriers were ruined during flooding last fall, as he had to ring around the "Hawkeye hole," an ongoing repair on the Hawkeye storm sewer. He says the city will be reliant on the temporary barriers for at least another 5-years until the flood mitigation project is completed, so any ordered will eventually be used.
Currently the Memorial Auditorium and Port of Burlington are protected by the Floodwall, but Hesco's are still used along Market Street and in the Port building's north parking lot.The next phase of the flood mitigation project will build permanent walls which will tie off on Market Street and at the Highway 34 overpass.
The National Weather Service has predicted we could get a flood at or above the record levels set in 2008 in the coming weeks. The Mississippi crested at 25.7 feet then. Currently the weather service says the water levels could hit major flood stage by next Monday, and are forecast to continue rising.