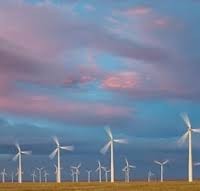 A $2.5B underground transmission line could be carrying electricity produced in Iowa to the Chicago area if state regulators give it a stamp of approval.
Direct Connect Development Company wants to bury the line along railroad tracks from Mason City, Iowa to Plano, Illinois. It would connect power grids in the two regions, and allow energy from wind farms in Iowa to be sold to high-demand urban areas in Chicago.
Alliant Energy, who recently filed for a 25% price hike in electric rates for their customers, currently operates four wind farms with nearly 350 wind turbines and has plans to construct at least three more farms in the next few years. Their investment in green energy was cited as a primary reason for the rate increase.
The developer says several investors, including Siemens Financial Services, Jingoli Power, and Copenhagen Infrastructure have signed on to fund the roughly 350-mile project, called SOO Green.
Around 36 percent of Iowa's electricity comes from wind turbines across the state.