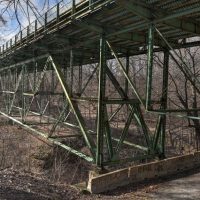 Discussions are set to continue in coming weeks on the future of Cascade Bridge. Two representatives from the Burlington City Council were on the Burlington Talk Show Wednesday, Matt Rinker says letting pedestrians continue to use the bridge would be "problematic."
"Span three is reported to be in the worst condition throughout the entire bridge…according to the engineer is would require less than 2% of the area of that span to be occupied before it would be overloaded," Rinker said on Wednesday.
The council discussed closing and fencing off the bridge at Monday's council work session. Engineers say the bridge poses a serious risk of collapsing due to its current condition. Linda Graham-Murray was also on the show, she says although they've looked at repairing the current bridge, it would likely have too many issues.
"What happens is that over time it turns into a nightmare with repairs and a shorter lifespan," Murray said. "It's kind a like putting a band-aid on a puncture wound."
The council is expected to vote on closing the bridge for pedestrian use soon, and the discussion on long-term solutions will continue at the next council work session.