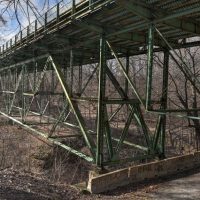 It appears that fixing the now-shuttered Cascade Bridge will be put to a vote.
The Burlington City Council came to a majority consensus on Monday to hold a special election on whether or not to pay for replacing the bridge with a 3% utility franchise fee.
The potential utility fee would only be placed on the electric portion of Burlington residents bills, and would replace the current 1% local option sales tax that is currently collected for a 2% increase. The fee would be collected for 13-years to cover the borrowing costs for replacing the bridge. Councilman Jon Billups says he'd prefer to wait until the planned replacement in 2024, but he's ok with putting it up for a vote.
"My gut reaction is that it would not pass," Billups said, continuing "I would be interested in allowing the public to vote on that rather than just the five of us."
City Manager Jim Ferneau estimated the cost of holding a special election at around $8K. Whether it would be beneficial to wait until 2024 if a million-dollars in state funding were to become available was also discussed. Matt Rinker said that waiting for grant money might not be worth it in the long run.
"Taking into account inflation and time value of money, if we waited until 2024 our cost would be a million dollars higher anyway," Rinker says that the inflated cost of replacing the bridge five-years from now could mean the city would be spending just as much as if they built the bridge now, without the state funding.
The lowest cost bridge replacement would be around $4.6M today, according to inflation-adjusted estimates from 2009. In 2024 the cost would be roughly $1M more expensive.
For now preparations will be made for an eventual demolition of the current, 123-year-old bridge. City staff will also begin preparing for a special election to decide whether the community would support replacing the bridge at an extra expense on their utility bills.