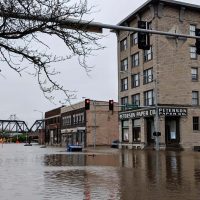 Hesco barriers in downtown Davenport couldn't hold back the might of the Mississippi River on Tuesday, leaving part of the city underwater.
The National Weather Service says the barriers at 2nd and Pershing streets failed on Tuesday afternoon. Floodwaters covered most of the area, sending many people to rooftops looking for safety. The city is reportedly look at possible evacuations of other downtown areas, although Davenport officials say they don't expect the flooding to spread much further than it already has.
So far no injuries have been reported due to the breach.
Conditions are expected to get worse for our northern neighbors on Wednesday as the river heads for a near-record crest for the Quad Cities at just under 23-feet.