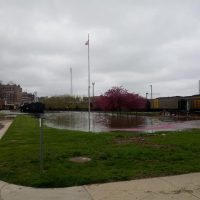 The Mississippi is still rising and roads have been closed due to flooding. City workers are furiously working to keep up with the rising river and it's a 24/7 job.
At the Train Depot in Downtown Burlington, a maintenance mechanic said he is on pump duty today.  That means he has to go to all of the pumps located around the city and make sure they are gassed up and running right. If his crew doesn't make it to any one of the pumps and it stops, flood waters will raise and buildings will be at risk of flooding.
The mechanic also went on to say that right now the water has almost filled the crawlspace of the Train Depot and water is backing up in the toilets. The only thing they can do now is attempt to keep the level where it is and not let it raise into the building.
While the building is closed, the train tracks have not been covered to the point of shut down yet. They will be keeping a very close eye on the water stage and adjust as needed.