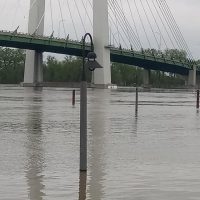 The flooding that began around late March has yet to subside in most places, in fact Davenport just broke the record that was set in 1993 and has suffered with flooded downtown streets and businesses.
While this long lasting flooding is uncommon, Wendy Pearson, Deputy Chief of Hydrologic Services at the National Weather Service Center Region Headquarters in Kansas City reminds us that we are not alone.
Pearson states "We still have moderate to major  flooding continuing in portions of North Dakota, South Dakota, Minnesota, Iowa, Wisconsin, Illinois, Indiana, Kansas and Missouri …"  and it stretches to the South along the river.  She reminds us that because of how wet the ground is already, "when we have convective storms in late spring and summer, those storms can cause additional flooding and flash flooding."
She predicts the flooding risks will continue well into the summer and we need to stay aware.