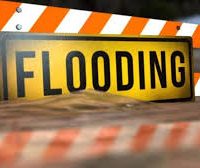 Governor Kim Reynolds, Lieutenant Governor Adam Gregg, Second District Congressman Dave Loebsack and state officials toured the flooded area of Davenport on Friday lead by Mayor Frank Klipsch.
They saw several blocks of businesses and apartments flooded by the Mississippi River.
Scott Lehnert is the owner and Brewmaster of the Great River Brewery.  He told the Governor and officials that "When the surge came — we had built sandbag walls prior — and it just happened so fast and had so much pressure it just went right through them. Busted off our garage doors right off the walls,"
The temporary floodwall protecting this section of downtown Davenport had held back the river for 41 days before the breach on Tuesday. Downtown residents and businesses had been warned about one hour beforehand that it might fail, but still had little time to protect their buildings and evacuate.