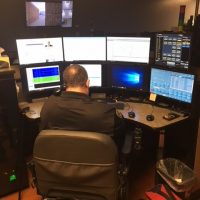 The Burlington City Council shot down a five-year agreement to fund Descom on Monday.
The agreement was voted down 4-1, with Annie Wilson being the only vote for the agreement. The city has been pushing to move funding for the dispatch center to a county-wide tax levy instead of the current system which is split between Burlington, the county, and rural towns. City Manager Jim Ferneau said although he would prefer a different funding system, it's important that Descom is funded.
"Looking at it from a level of service, whether we're paying for it through the city's levy or it's all on a county-wide levy, the biggest concern is that we have the coordinated services," Ferneau says in the end taxpayers will end up paying close to the same amount regardless of who they are writing the check to.
Descom officials said last week that if the agreement weren't approved they would be able to secure temporary funding, and Descom wouldn't be in danger of shutting down. Ferneau did say that any major changes to the funding structure would take at least another year to put into place, because budgets and tax levys for the next fiscal year have already been set.