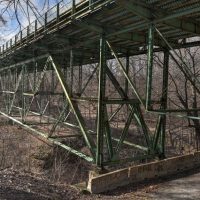 It'll be a bit more complicated to tear down Cascade Bridge than was initially thought — that's due to the bridge being listed on the National Register of Historic Places.
The bridge was one of the Burlington City Council's discussion items at Monday's work session. Engineers say the city will have to go through a federal process to de-list the bridge from the register before it can be torn down, and that could be a process that takes several years and costs up to $100K dollars.
The council also discussed whether pursuing a 3% franchise fee is still the best option to fund a bridge replacement. Councilwoman Linda Graham Murray says she's no longer supporting the option.
The rest of the council, minus Mayor Shane McCampbell who wasn't at the meeting, was still in support of at least taking it to a vote to gauge the public's interest in replacing the bridge.
Another funding option was also discussed, raising property taxes by around .70 cents per thousand to fund the bridge replacement. Either way with the current red-tape delay it could be around the 2024 time frame before the council is able to demolish and rebuild the bridge.
Current estimates to replace the bridge with a basic concrete structure range from $5-7 Million and around $500,000.00 more for aesthetic improvements. The council is hoping that pursuing demolition of the historic bridge will entice the Federal Government to provide funds for a rehab of the current structure.
The 123-year-old bridge was fenced off last month after an engineer's report surfaced that said it was at risk of collapsing if too many people were walking on it at the same time.