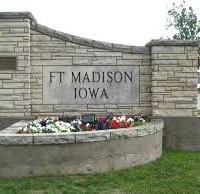 The Lee County Supervisors approved the agreement with the city of Fort Madison that makes Lee County Sheriff Stacy Weber the interim Police Chief.
On a unanimous vote, the supervisors gave the nod to a deal that could be as long as six months for Weber and his staff to help manage the department as well as restructure it as the city looks for a new Police Chief. Current Chief Tim Sittig announced his departure from the department at the beginning of the month. The city is working with a search firm to find a new chief and say the position could be filled in as little as three to four months.
In the meantime, Sheriff Weber and his staff will work closely with the union and the city council to manage and move the Fort Madison Police Department closer to the goals of the city council.