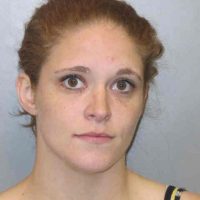 Yesterday around 1:54 in the afternoon, a Des Moines County Deputy stopped 30 year old Alaine Newman of Burlington for a traffic violation on Golf Course Road.
Newman fled in her vehicle and the deputy followed her.  As she was fleeing, she hit a stopped vehicle at the intersection of Golf Course Road and Irish Ridge Road and continued North on Irish Ridge Road.  About a mile later, Newman lost control of her vehicle and crashed into a ditch, the vehicle rolled several times and ejected her because she was not wearing her seat belt.
Newman was taken to GRMC where she was treated and released and was then arrested and charged with Possession with Intent to Deliver Methamphetamine, Drug Tax Stamp Violation, 2 counts of Possession of a Controlled Substance – Pharmaceuticals, Destruction of Evidence, Failure to yield to an emergency vehicle, Leaving the scene of a traffic accident, No insurance, and an outstanding Lee County Iowa warrant for Parole Violation.
Newman is being held at the Des Moines County Jail on $25,000 bail.