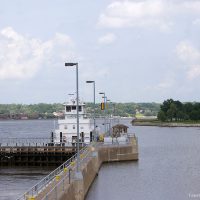 ***UPDATE*** 6-7-19 3:22 PM
The Burlington Police Department has just announced that they received word from the Coast Guard stating the Mississippi River is now open in the Des Moines County/Burlington area.
**UPDATE** 6-3-19 5:49 PM
Per the Coast Guard at 5:46 PM.  The closure has been extended 21.5 miles South.  Miles marker 410.4 to 179 is the new closure.
On Saturday June 1st, the Coast Guard, U.S. Army Corps of Engineers and industry stake holders closed the Mississippi River from Alton, IL., at mile marker 200.5, North to Gladstone, Il., at mile marker 410.4 due to high water levels and fast currents.
Per a news release from the United States Coast Guard, Captain Scott Stoermer, commander of Coast Guard Sector Upper Mississippi River  says the 200+ mile closure on the river is a safety measure intended to help keep the waters from going over top of the levees.  The Coast Guard's first priority is to the safety of people, property and environment and they are requesting the public to be vigilant and heed all warnings on the river.
Restrictions to operations will be lifted as soon as conditions improve.