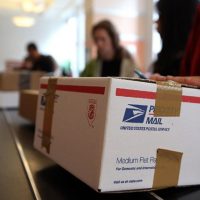 Eight people are facing federal charges after a months-long investigation by Marc Krickbaum, Unites States Attorney for the Southern District of Iowa; Bryan Van Duen, Acting Special Agent-in-Charge of the Omaha Field Division of the Federal Bureau of investigation; and Dana Wingert, Chief of Police of the Des Moines Police Department.
28 Year old Raylon Canada of Des Moines was being investigated for the Distribution of Cocaine since late last year.
During this investigation, it was discovered he was allegedly receiving Cocaine through the mail from 28 year old Pedro Bustamante Machuca of Los Angeles.  Machuca was arrested in conjunction with the Des Moines arrests.  He will have initial appearance in Central District of California before reporting to Des Moines.
The investigation also revealed additional alleged customers and redistributors who have been charged with drug conspiracy and distribution:
26 year old Terikah Meiketia Mahaney of Des Moines
39 year old Michelle Lee Mireles of Des Moines
33 year old Eric Elmont Bowman of Des Moines
48 year old Katario Wade Patton of West Des Moines
33 year old Marvin Haygood, Jr. of Des Moines
47 year old Joseph Manuel Jones of Des Moines
The investigation also resulted in the arrests of numerous alleged members of the Des Moines-based street gang C-Block.
The news release states that valuable assistance was also provided by the Bureau of Alcohol, Tobacco, Firearms, and Explosives; Drug Enforcement Administration; Dallas County Sheriff's Office; Polk County Sheriff's Office; Story County Sheriff's Office; and the Altoona Police Department with Assistant United States Attorneys Mikeala Shotwell and Kristin Herrera representing the government.