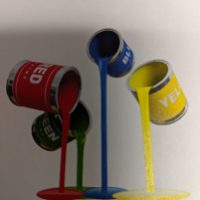 In a Press conference Tuesday Morning, Two Rivers Bank and Trust, Diamond Vogel and Community Action of South East Iowa announced this morning they will be taking applications for the 27th annual paint-a-thon.
Mayor Shane McCampbell was present to help kickoff the program and thank all involved.
I'm glad to be announcing the paint-a-thon program.  In so many different ways this addresses so many needs in the community that I hope this goes on for 27 more years."  Mayor McCampbell goes on to say  "Also thanking the partners that have been involved in this over the years.  As the mayor of the city of Burlington, I'm so glad this is going on in our city, in our community and in any way we can be a part of this we definitely support it.  I'm just excited today for the event coming up."
The paint-a-thon has painted over 507 homes in the Burlington, West Burlington, and in more recent years, the Mediapolis area.
This year the plan is to paint 11 homes in Burlington/West Burlington and one home in Mediapolis.
If you are a homeowner over the age of 55, disabled, a single parent or a veteran, live on limited income and have a desire to maintain the appearance of your home, you may qualify to have your house painted for free.
Community Action of Southeast Iowa processes the applications and selects the homes based on strict criteria. Homes may be nominated by the homeowner or another individual.
Once a home is selected, the homeowner then will go to Diamond Vogel and select the colors they would like. Diamond Vogel supplies all the paint for every house in the paint-a-thon. They have donated over 8000 gallons of paint in the 27 years they have been a part of this.
Then come the volunteers, the backbone of this program. The volunteers will meet with the homeowners to discuss details and the painting will commence on September 3rd through the 7th.
If you are interested in having your house painted, applications are available at Two Rivers Bank and Trust, Diamond Vogel, or Community Action of Southeast Iowa. June 12th is the deadline for all applications are to be mailed to or hand delivered to Two Rivers Bank & Trust, ATTN: Jim O'Neill P.O. Box 728 Burlington, IA 52601
If you are interested in becoming a volunteer, you may contact Jim O'Neill of Two Rivers Bank and Trust at 319-572-1176.