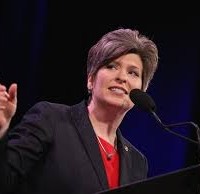 Senators Joni Ernst and Chuck Grassley sent a letter to Federal Communications Commission Chairman Ajit Pai slamming him for the map of areas in Iowa that have access to Broadband.
In the letter, both Iowa senators said the claim that ninety percent of Iowans having access to Broadband is simply not true.
The FCC uses Census Blocks to determine if the an area has broadband access. According to Census.org, a Census Block is a statistical area bounded by visible features such as roads and by non-visible boundaries such as property lines.
The Senators say that using this method means large portions of the state could be counted as having broadband without actually having internet access. The letter pointed Chicksaw County in Northeast Iowa. According to the FCC the county has internet access but data usage numbers say only 6% of the county has
According to the senators, falsely labeling areas leads to these areas not being eligible for Broadband networking funds that they should be entitled to.