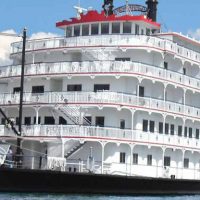 The Penn City Current is reporting that 14 cruise ships will be docking in Fort Madison between August 8th and October 18th.
Originally it was thought that American Cruise Lines would be docking ten times in Fort Madison. However, it was announced on Wednesday the cruise line would instead dock 14 times. Each of the 14 dockings will include up to 150 different passengers. These docking times are expected to be for six to eight hours at a time. Twice as long as was initially expected.
Three different American Cruise Lines Ships will dock in Fort Madison, the American, Queen of the Mississippi, and the American Harmony. The city is still working on a deal with Viking Cruise Lines.