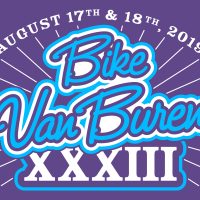 The Villages of Van Buren County, Iowa will be hosting the 33rd year of Bike Van Buren on August 17th & 18th.
Approximately 200 bicycling enthusiasts will pedal their way through 10 historical villages during the 2-day event in Southeast Iowa. Each village will welcome the bikers with free refreshments and outstanding hospitality, and all of the routes will take you through some of the most beautiful countryside in Iowa.

Register for Bike Van Buren online at www.villagesofvanburen.com or walk-up registration will be held at the Keosauqua City Park, Saturday 7am-8:30am and Sunday-Only registration is 7:30-8:00am. The two-day registration fee for adults is $45 and anyone under eighteen is $37. Single day registration is $35 for adults and $27 for children.
Two routes will be offered on Saturday (58 miles & 44 miles) and 1 route on Sunday (51 miles). Riders can create their own route as well. All routes will begin and end at the Keosauqua City Park, and all are clearly marked with large colored arrows.
Bickel's Cycling & Fitness of Burlington will provide technical support and several sag wagons will be en-route with the riders at all times. Riders are encouraged to carry a cell phone, as phone numbers for staff support crews are provided. All support crews will be equipped with free cold bottled water, courtesy of Bonaparte Retreat Restaurant in Bonaparte, and limited first aid.

Riders will have the option to purchase a lunch band at registration ($10 adults, $7 youth). Saturday's lunch will be held at the Stockport Legion Hall and Sunday's lunch will be held at the county's newest restaurant, The Hunny Hole in Milton. Registered riders will take advantage of 100% complimentary refreshments at each of the 11 hospitality stops, Hospitality stops average 8-10 miles apart and will include some fascinating historic sites such as the Aunty Green Hotel in Bonaparte, Pioneer Historical Museum in Farmington, Stockport Depot, Douds Depot, Valley School No. 3 in Leando and Pearson House Museum Complex in Keosauqua.
New this year, a fun side trip on Saturday morning from 8-10:00am at the Bonaparte Boat Ramp, riders will get to witness what lives in the murky waters of the Des Moines River! The State Hygienic Laboratory from the University of Iowa will use various techniques of electroshocking in the river to collect and sample aquatic life.
A Fun Poker Run will be part of the event on both days. Riders will try to build their best hand of poker by drawing cards at designated hospitality stops. The best hand on each day, will win $100 cash. Bickel's Cycling & Fitness in Burlington will provide prizes for 2nd, 3rd and 4th place winners.
Saturday's ride will conclude at the Pearson House Museum Complex where riders will tour the Underground Railroad safe house and see where escaping slaves hid under the floorboards during the Civil War on their journey to freedom. The Pearson House will also be open on Sunday from 1:00-4:00pm. John Boyer will provide musical entertainment.
Keosauqua Lions will be serving an all-you-can-eat Pancake & Sausage breakfast with scrambled eggs on both mornings from 6:30-10:00am in the Keosauqua City Park which is open to the public. The Keosauqua Lions, First Iowa State Bank & Bickel's Cycling & Fitness have partnered together to raffle a beautiful black Domane AL 3 54 Road Bike.
Tickets, being sold at $5 each or 5 for $20, will be for sale during the Lions breakfast on August 17 and again that afternoon at the Pearson House Museum Complex. The winner will be drawn during breakfast on Sunday morning and you don't need to be present to win. Proceeds will benefit various Lions Club projects.

For more information contact Villages of Van Buren by phone at 800-868-7822 or 319-293-7111 or visit their website at www.villagesofvanburen.com
Press Release courtesy of Villages of Van Buren