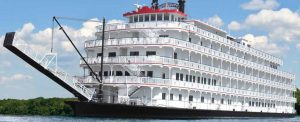 The American Duchess, a cruise ship with the American Steam Boat Company, will be docking in Fort Madison for the first time.
The city of Fort Madison had previously worked on the docks and were courting several different companies including American Cruise Lines and Viking Cruise Lines.
The first docking of The American Duchess will be on August eighth. Cruise ships will dock a total of four times this month in Fort Madison.