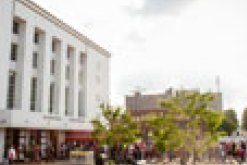 The next development in Downtown Burlington could be a hotel.
Monday night, Des Moines-based developer Ryan Jensen asked the city to have exclusive rights to create a development plan for the Burlington Riverfront.
Jensen said his plans would focus on developing a hotel in the parking lot between Burlington Memorial Auditorium and The port of Burlington. The city would continue to own the land as they are legally prohibited from selling the land, but the owner of the hotel would maintain a lease agreement with the city.
Next Monday, the council would vote on whether or not to give Jensen exclusive rights. The contract would not guarantee a hotel but it would mean Jensen is the only one who can look at developing anything on the riverfront for the next six months.