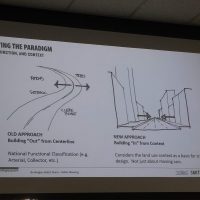 With Construction of the TIGER grant projects only a year way, the city of Burlington, in conjunction with Vemstra and Kim, the main engineer on the project, hosted a public meeting.
A part of the meeting was explaining the parts of the street. Tom Rogers, Landscape Architect and Urban Designer, explained that while a street was traditionally viewed as a way to move cars, Rogers said now streets are seen as a way to move people.
After the discussion on streets, members of the public were allowed park things they like and don't like with downtown. Overall, people tended to like more traditional downtown lighting, signage, and improvements but tended to prefer more modern street furniture.
Another public meeting is expected to be held in September.