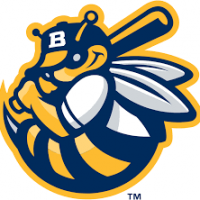 Burlington, Ia (The Hawk Eye)- The Burlington Bees will be back for the 2020 season, but the future of the team beyond the 2020 season remains in doubt.
The Hawk Eye reports that Under a proposal by Major League Baseball, up to 42 minor league teams would have their affiliations with major league clubs ended after the 2020 season. Burlington of the Class A Midwest League is on that list, as well as fellow Midwest League teams in Clinton and the Quad Cities.
The current Professional Baseball Agreement between Major League Baseball and minor league baseball teams expires after the 2020 season.
Kim Parker, general manager of the Burlington Bees, said she and her staff already have everything in place for the 2020 season, which will begin April 9 at Wisconsin. The Bees host their home opener at Community Field on April 13 against Clinton.