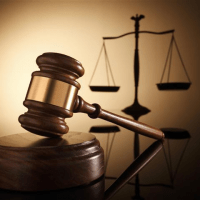 Burlington, Ia (Burlington Beacon)-  Emmanuel Spann was convicted on Monday of first-degree murder in the 2017 death of DeMarcus Chew.
The Burlington Beacon reports that Spann, who was also convicted of conspiracy to commit a forcible felony during the trial, will be sentenced at a later date.  In Iowa, First Degree Murder carries a mandatory life sentence.
The Des Moines County Attorney's office, which prosecuted the case, accused Spann of conspiring with four other men in the murder — Andre Harris, Caesar Davison, Derrick Parker, and Antoine Spann. Prosecutors said the murder was $20,000 hit job issued by a Chicago gang.
Harris, Parker and Antoine Spann all plead guilty to crimes related to the killing of Chew and are each serving sentences of between 15 and 20 years in prison. Harris and Antoine Spann testified at Emmanuel Spann's trial as a part of their plea agreement.
Chew was shot to death in the backseat of a car outside his mother's house in Burlington during the early morning hours of Sept. 10, 2017. He had returned from a night on the town in Gulfport, Ill., and was shot shortly before 6 a.m., according to police.